Branding is one of the most important aspects of any business, big or small. It is so much more than just a logo or graphical element. Your brand is essentially the way your customers perceive you, your promise to them, and what they should expect from your product or service. It's how people perceive your brand, the gut feeling people get when they hear about or see your brand, it's the memories and stories people have with your brand.
We want your brand to stand out from the crowd; our experienced team can help make this process easy from designing to implementing and delivering the final product. Look it's very simple, we won't charge anything up-front and we can give you control of your product packaging design from conception to delivery with our sustainable packaging.
Most of our packaging can be branded; from Paper cups to Takeaway containers – we will offer Free Storage along with Price Match Promise on our all branded packaging. If our MOQ is too much to start on with, we will be delighted to help on with our in-house branded sticker service with only 1000 as a minimum.
Don't take our word for it, 59% consumers buy new products from trusted brands. On average 84% of people remember the name of the company on merchandise. Let's make your brand stand out with our sustainable packaging and your food, its match made in heaven. We have worked with some of the biggest brand names in UK because we offer a complete custom packaging service.
We offer bespoke packages to suit your needs which may include:
Custom branding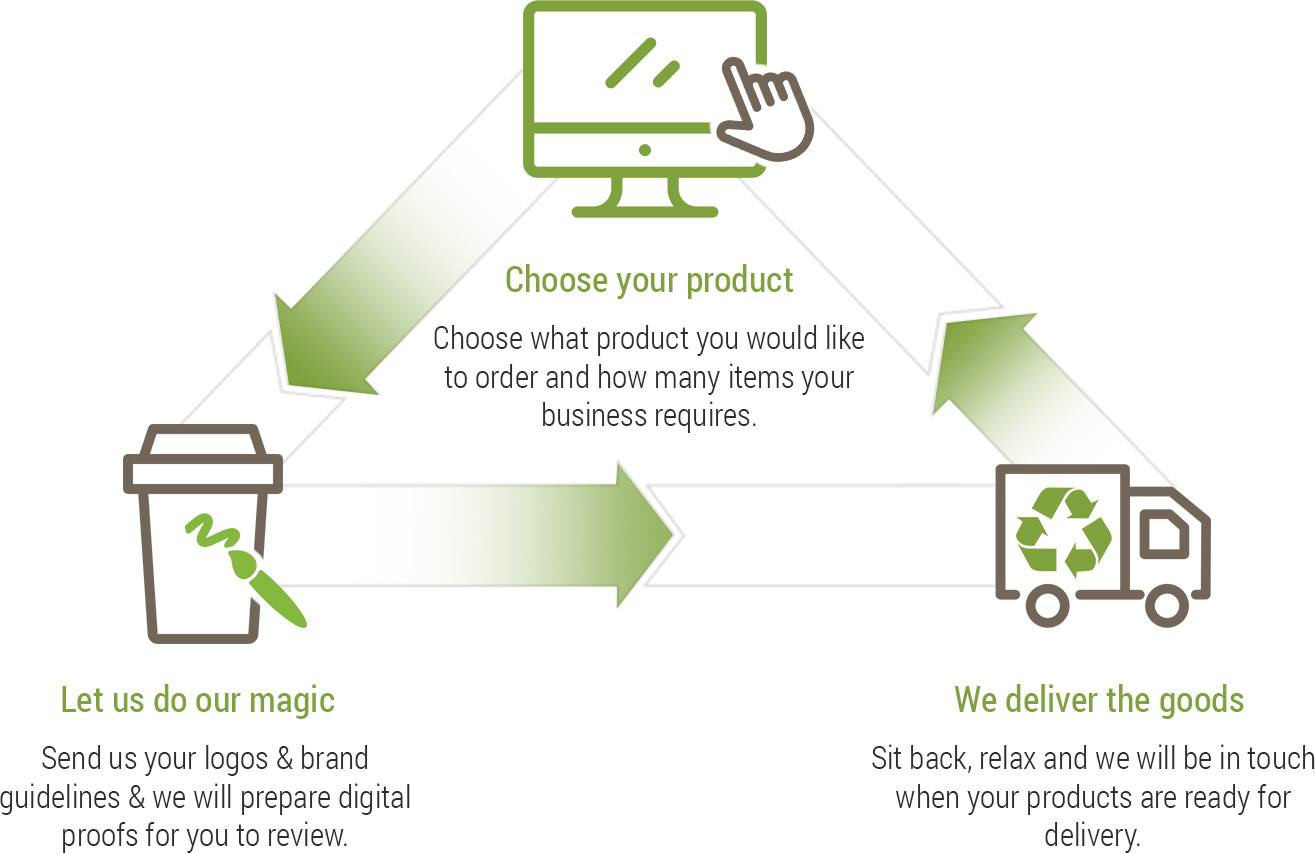 Single Wall Cups

Sizes Available: 4oz, 8oz, 12oz, 16oz & 20oz
Minimum quantity: 1,000 items
Number of print colours: Up to 8 colours
Ink – Fully Food grade Inks
Artwork: Free design
Lead time: 1 - 4 weeks

Double Wall Cups

Sizes Available: 4oz, 8oz, 12oz, 16oz & 20oz
Minimum quantity: 1,000 items
Number of print colours: Up to 8 colours
Ink – Fully Food grade Inks
Artwork: Free design
Lead time: 1 - 4 weeks

Hot Cup Sleeves

Sizes Available: 8oz, 12oz & 16oz
Minimum quantity: 1,000 items
Number of print colours: Up to 4 colours
Ink – Fully Food grade Inks
Artwork: Free design
Lead time: 1 - 4 weeks

Ice Cream Cups

Sizes Available: 8oz, 12oz & 16oz
Minimum quantity: 1,000 items
Number of print colours: Up to 8 colours
Colour – Food safe Inks
Artwork: Free design
Lead time: 1 - 4 weeks

Greaseproof Sheets

Sizes Available: Any Size
Minimum quantity: 5000 items
Number of print colours: Up to 4 colours
Colour – Food safe Inks
Artwork: Free design
Lead time: 1 - 4 weeks

Paper Carrier Bags

Sizes Available: Small, Medium & Large
Minimum quantity: 10,000 items
Number of print colours: Up to 4 colours
Colour – Food safe Inks
Artwork: Free design
Lead time: 1 - 4 weeks

Napkins

Sizes Available: 30cm to 40cm
Minimum quantity: 30,000 items
Number of print colours: Up to 4 colours
Colour – Food safe Inks
Artwork: Free design
Lead time: 1 - 4 weeks

Bio Boxes

Sizes Available: All sizes
Minimum quantity: 30,000 items
Number of print colours: Up to 4 colours
Colour – Food safe Inks
Artwork: Free design
Lead time: 1 - 4 weeks

Soup Containers

Sizes Available: All sizes
Minimum quantity: 30,000 items
Number of print colours: Up to 4 colours
Colour – Food safe Inks
Artwork: Free design
Lead time: 1 - 4 weeks

Bio Plastic Cups

Sizes Available: All sizes
Minimum quantity: 40,000 items
Number of print colours: Up to 4 colours
Colour – Food safe Inks
Artwork: Free design
Lead time: 1 - 4 weeks
Talk to us today
Let's make a difference